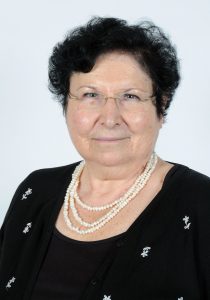 Professor Mary Gulumian, the head of Toxicology Research Projects for South Africa's National Institute for Occupational Health (NIOH) has been honoured at a prestigious ceremony in Virginia, United States. The Society for Risk Analysis (SRA) awarded six prestigious scholarly and service awards, and named six new Fellows on 10 December 2019. Prof Gulumian was one of the Fellows announced. These awards recognize the 12 individuals for their outstanding contributions to the society and to the science of risk analysis. The recipients were selected by a committee of SRA past presidents and approved by the SRA Council.
The SRA is a multidisciplinary, interdisciplinary, scholarly, international society that provides an open forum for all those interested in risk analysis. The SRA was established in 1980 and since 1982, it has continuously published the leading scholarly journal: Risk Analysis: An International Journal. Professor Gulumian holds an honorary professorial post in the Haematology and Molecular Medicine Department at the University of Witwatersrand where she presents courses on Health Risk Assessment (nanotechnologies) and supervises post graduate students. She is a founding member and past President of the Society for Free Radical Society of South Africa (SFRRSA) and the founding member and President of the Toxicology Society of South Africa (TOXSA). She is also the founding member and the President of the SRA-Africa.
She served on the Executive Committee 2013-2016 of the International Union of Toxicology (IUTOX) as Vice President. Prof Gulumian was also a member of the final review board of World Health Organization (WHO) Concise International Chemical Assessment Documents publications on number of toxic compounds. She was also appointed by the Minister of Science and Technology (DST, now DSI) to serve as a Council member of the South African Council for Natural Scientific Professions (SACNASP).
Her research includes hazard identification and communication as well as elucidation of mechanisms of toxicity of micro and nano-particles. She has authored and co-authored numerous scientific publications on this topic and delivered many presentations at local and overseas conferences. She has further provided expert consultation to industry and government departments on the toxicity of chemicals in the working and ambient environments. She is also a member of the Editorial Board of the journal of Human and Experimental Toxicology and of the journal Particle and Fibre Toxicology.
Nationally, in her capacity as the President of TOXSA, Professor Gulumian is involved in the registration of Toxicologists in South Africa and in setting up curricula necessary for this registration. Internationally, in her capacity as Vice-President of IUTOX, she is involved in the harmonization of the registration of toxicologists worldwide.