COVID-19 Resources
For more Regulations & Guidelines- Coronavirus Covid-19 Click here >>
OHSS Business Portal – COVID-19 Workplace Surveillance
COVID-19 National Resources: Directives and Guidelines
COVID-19 Workplace Posters and Factsheets
Occupational Health Surveillance
COVID-19  Training -per presenter
COVID-19 Presentations & Videos
Educational Video Resources
COVID-19: What employers need to consider for vulnerable workers
What employers need to know about risk assessment
Steps employers can take when a worker is symptomatic or tests positive for Covid-19 at work
Which workers require medical N95 respirators?
The importance of medical screening in the workplace
Frequently Asked Questions (FAQs)
6.What are the requirements for NPO, organisations, persons working voluntary inside and outside the registered place of business, engaging with other members/clients?
James Mabaso
2020-10-28T16:53:10+02:00
Any person working at the business site will have to be included as employees with the same data submission requirements
Know How it Spreads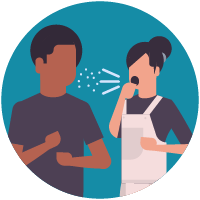 There is currently no vaccine to prevent coronavirus disease 2019 (COVID-19).

The best way to prevent illness is to avoid being exposed to this virus.

The virus is thought to spread mainly from person-to-person.

Between people who are in close contact with one another (within about 6 feet).
Through respiratory droplets produced when an infected person coughs or sneezes.

These droplets can land in the mouths or noses of people who are nearby or possibly be inhaled into the lungs.
Presentations
Looking After Your Emotional Wellbeing During This Time
BioRisk Assessment for Frontline workers