22 November 2019
The National Institute for Occupational Health (NIOH) held a thought-provoking and interactive Webster Day at its Braamfontein campus on 7 November 2019, with scores of staff and external delegates in attendance. Webster Day is an annual event commemorated in celebration of NIOH forefather, Dr Ian Webster, who gave a lifetime of devoted service to progressing occupational health in South Africa. He was a Fellow of the Royal College of Pathologists and a member of the Royal College of Physicians of London. Dr Webster also served as Director of the National Centre for Occupational Health until his retirement. He was offered three honorary research fellowships, and was involved in major research on the spread of tuberculosis in gold mines at the time of his death in June 1998.
The theme for this year's Webster Day event was mental health in the workplace. NIOH acting executive director, Dr Spo Kgalamono started the session with an overview of mental health in the workplace in South Africa.
"Prevalence of mental illness is rising in the general population. Within the workplace, mental health is neglected as employers may not have strategies in place to deal with it. According to statistics from the South African Depression and Anxiety Group (SADAG), 23 people commit suicide a day in South Africa and that's nearly one every hour," she said.
"It's not something we can just overlook. The workplace is where we spend most of our time so we have to make it conducive for everyone to work without being harmed. Workplaces need to assess for psycho-social risk factors and control them."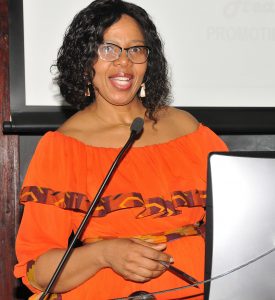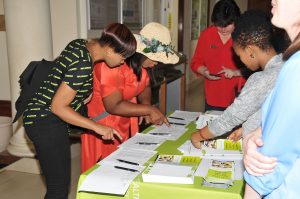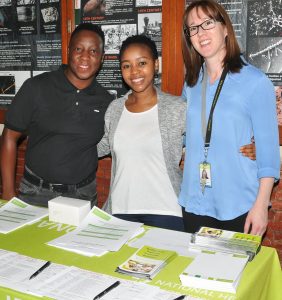 Dr Sumaya Mall, a senior lecturer in the Epidemiology and Biostatistics division at Wits University's School Public Health then took to the podium to dig deeper into occupational mental health. She spoke about research conducted in psychiatric epidemiology, with particular interest in childhood adversity/trauma and its impact on adult health.
In studying the causality of mental disorders, Dr Mall said there was a possibility that the occupational environment and mental disorders may have a bi-directional relationship. She said the consequences of occupational stress or mental disorders included suicide, although it is important to remember that suicide or suicidal behaviour has many causes.
She said recent analyses from the World Mental Health Survey college students' study suggests that childhood trauma and feelings of hopelessness were associated with suicidal behaviours.
Next on the podium was Dr Thabiso Makola, a public health medicine specialist, who spoke about the importance of diversity in the workplace. He said companies needed to look at diversity because of shifting paradigms, changing demographics, globalisation, generational gaps, and religious/spiritual diversity.
Dr Makola said it was important for companies to understand that each individual is unique with differences of race, gender, sexual orientation, socio-economic status, age, physical abilities, religious beliefs and political beliefs.
"Culture is that which shapes us; it shapes our identity and influences our behaviour. Culture is our way of being," he said.
In the workplace, he said cultural diversity was underscored and it was not about tolerating diversity, but celebrating it.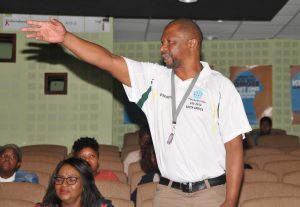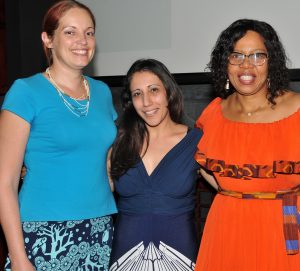 After a short tea break, NIOH staff participated in an interactive session with Dr Colleen Bernstein from Wits University who spoke on the issue of bullying and emotional abuse in the workplace, and the toxic effects on health.
Dr Berstein's engagement kept guests intrigued and ensured employees participated on a topic that is sensitive to many. She went into aspects of psychological intimidation, the perpetrators and targets, toxic leaders, and conditions that foster this behaviour.
She also touched on the impacts of bullying on an organisation like increased absenteeism, lower productivity, lack of trust, reputational damage and toxic organisational culture. Dr Berstein explained the different ways of coping with bullies such as seeking help or standing up to the bully.
All in all, Webster Day was a great success, and mental health in the workplace was highlighted as a crucial topic needing attention in South Africa. The NIOH looks forward to continuing discussions around this topic and seeking areas of collaboration with stakeholders.