2 December 2019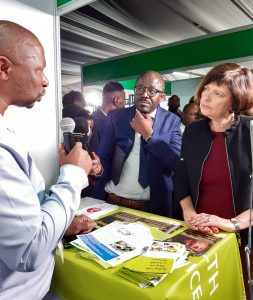 The National Institute for Occupational Health (NIOH) were among the many exhibitors at South Africa's first ever Plastics Colloquium, held at Birchwood Hotel in Boksburg on 21 and 22 November. NIOH epidemiologist Vusi Ntlebi had the opportunity to speak to Environmental Affairs Minister Barbara Creecy about studies and research done by the NIOH on waste pickers and reclaimers. The Minister said waste pickers worked under harsh circumstances and asked Mr Ntlebi to send her the research report once completed.
The event brought together various  stakeholders from government, industry and civil society to discuss ways of reducing litter and plastic waste in rivers and oceans. The emphasis of the event was on research, awareness campaigns and international best practice.
Creecy said the management of waste and, in particular plastic waste, was a matter that required urgent attention by government and citizens. At the event, dozens of exhibitors displayed their services including the NIOH, Petco, Sasol, the Polystyrene Association of SA, and the African Reclaimers Organisation.
Ntlebi was one of many stakeholders that delivered a presentation. He told delegates that high unemployment in South Africa had driven people to become waste pickers. Many of them worked at landfill sites or on the streets. Ntlebi said approximately 90% of general waste was still being sent to landfill sites, and over 200,000 people were waste pickers in South Africa.
He said cross sectional surveys were carried out by the NIOH in this regard. Concerns for landfill waste pickers were highlighted and it included potential exposure to chemicals, fumes, faecal and medical waste; exposure to truck fires and waste slides; exposure to extreme weather conditions; and ergonomic hazards due to hauling waste.
Ntlebi said other concerns included psychosocial factors like violence and harassment; no access to protective equipment or training to mitigate exposures; lack of access to potable water and ablution facilities; and limited access to healthcare. Other speakers also took to the podium to present over the two-day  event, which was a success.