COVID-19 Resources
For more Regulations & Guidelines- Coronavirus Covid-19 Click here >>
OHSS Business Portal – COVID-19 Workplace Surveillance
COVID-19 National Resources: Directives and Guidelines
COVID-19 Workplace Posters and Factsheets
Occupational Health Surveillance
COVID-19  Training -per presenter
COVID-19 Presentations & Videos
Educational Video Resources
Know the 3 C's and 3 W's: Prevention during the Winter Season
COVID-19: What employers need to consider for vulnerable workers
What employers need to know about risk assessment
The importance of medical screening in the workplace
Steps employers can take when a worker is symptomatic or tests positive for Covid-19 at work
Frequently Asked Questions (FAQs)
Q: Will the RNA vaccine change my genetic makeup?
James Mabaso
2021-04-06T11:34:09+02:00
A: No. Some viruses, retroviruses like HIV, are inserted into the host genetic material and can cause mutations. The genetic material of SARS-CoV2 is not inserted and the vaccines will also not result in genetic manipulation.
Know How it Spreads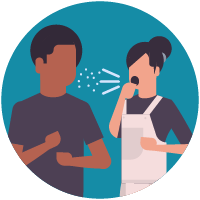 There is currently no vaccine to prevent coronavirus disease 2019 (COVID-19).

The best way to prevent illness is to avoid being exposed to this virus.

The virus is thought to spread mainly from person-to-person.

Between people who are in close contact with one another (within about 6 feet).
Through respiratory droplets produced when an infected person coughs or sneezes.

These droplets can land in the mouths or noses of people who are nearby or possibly be inhaled into the lungs.