COVID-19 Resources
For more Regulations & Guidelines- Coronavirus Covid-19 Click here >>
COVID-19 – NIOH Occupational Health and Safety Resources
COVID-19 National Resources: Directives and Guidelines
COVID-19 Workplace Posters and Factsheets
Occupational Health Surveillance
COVID-19  Training -per presenter
COVID-19 Presentations & Videos
Educational Video Resources
The steps you need to know for doffing gloves
Working during lockdown? How to stay safe
The steps you need to know for doffing gloves
Which workers require medical N95 respirators?
A guide on how to doff gloves using the beak method
What every employer should do during COVID-19
What you need to know about donning & doffing surgical masks
What you need to know about surgical masks
Step-by-step guide on donning and doffing of a Vflex N95 respirator
What employers need to know about risk assessment
Steps employers can take when a worker is symptomatic or tests positive for Covid-19 at work
The steps you need to know for donning gloves
Donning and doffing of cup shaped N95 respirator
Frequently Asked Questions (FAQs)
Is it necessary for an employee that is wearing a face shield, to also wear a cloth mask underneath?
James Mabaso
2020-05-23T01:54:19+02:00
The use of either one or both depends on the protection desired as informed by the risk assessment which looked at various activities within the workplace. The shield is to protect the worker from droplets and splatter and also protects the eyes, however a surgical mask is designed to contain inhaled droplets from being expelled into the environment by the wearer/user. A cloth mask is not considered as a PPE as it does not have a protective factor and merely aids in reducing droplet spread.
Know How it Spreads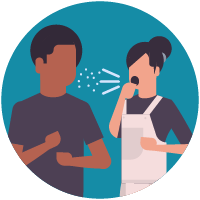 There is currently no vaccine to prevent coronavirus disease 2019 (COVID-19).

The best way to prevent illness is to avoid being exposed to this virus.

The virus is thought to spread mainly from person-to-person.

Between people who are in close contact with one another (within about 6 feet).
Through respiratory droplets produced when an infected person coughs or sneezes.

These droplets can land in the mouths or noses of people who are nearby or possibly be inhaled into the lungs.
Presentations
Looking After Your Emotional Wellbeing During This Time
BioRisk Assessment for Frontline workers