COVID-19 Resources
NDOH COVID19 OHS Resources
Frequently Asked Questions (FAQs)
Q : Who should be wearing PPE?
Shanaz Hampson
2020-03-30T08:43:39+02:00
The decision for employees to wear PPE should be based on the outcome of the risk assessment. These employees should include those are likely to be exposed to suspected cases, symptomatic and those likely to perform aerosol generating procedures.
These workers include:
Airline operations (e.g. airline cabin crew, aircraft cleaners, mechanics)
Boarder control (e.g. security officials, and other boarder officials)
Health care (e.g. paramedics, nurses, doctors, other medical staff)
Laboratories (e.g. medical technologists, scientists, laboratory aids and researchers)
Pathology and funeral services (e.g. mortuary attendants, autopsy technicians and funeral directors)
Solid waste and wastewater management (e.g. waste pickers, water treatment plant
In addition, if a person/ worker is symptomatic they need to wear a surgical mask to prevent transmission.
For more information on use of PPE please see https://apps.who.int/iris/bitstream/handle/10665/331215/WHO-2019-nCov-IPCPPE_use-2020.1-eng.pdf
Employers should consider applying the hierarchy of controls in terms of implementing the controls prior to using the of PPE.  Appropriate use of PPE involves proper selection and training and information on how to put on, remove and dispose of it.
COVID-19 Training Schedule
Presentations
Bio-risk Assessment for security officers and cleaning personnel
Know How it Spreads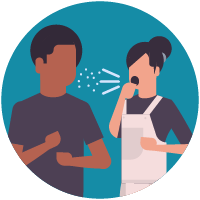 There is currently no vaccine to prevent coronavirus disease 2019 (COVID-19).

The best way to prevent illness is to avoid being exposed to this virus.

The virus is thought to spread mainly from person-to-person.

Between people who are in close contact with one another (within about 6 feet).
Through respiratory droplets produced when an infected person coughs or sneezes.

These droplets can land in the mouths or noses of people who are nearby or possibly be inhaled into the lungs.